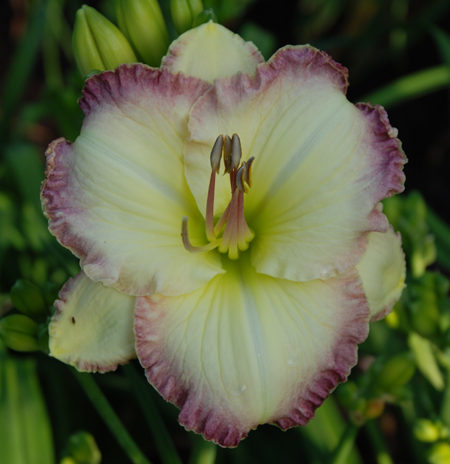 *Across the Border

---
*
ACROSS THE BORDER
(Stamile,P.)
TET 4263-B [(By Design x Tetra Beautiful Edgings) X Tetra Forsyth Flaming Snow] 32" EMRe. emo. Ev. 5.5" x 3" x 1.75". 3-way branching. 18-21 buds.
This true picotee opens snow white in the morning with just a small dollop of chartreuse green in the throat. The lightly ruffled petals and sepals are both outlined in rose lavender. Our finest and most dramatic edge no eye. First flowers on ACROSS THE BORDER can be close to 6.5". Substance is excellent. A must if you are doing picotee borders without eyes.
Fertile both ways. Top notch.