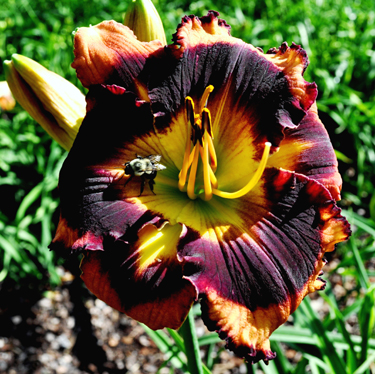 *Autumn Concerto

---
*
Autumn Concerto
(Stamile, P.) TET

8116-A (New Paradigm x Walter Kennedy) 40" EMre

6 ½ " 5 way branching 35 buds.

From two wonderful but average scape height parents, comes Autumn Concerto; which jumps up at you with its 40 " tall scape!

This big flower is covered with all the lovely hues that make up fall colors.

Rich, clear shades of Sienna, Black, and Paprika, are covered in a diamond dusting, appearing as a lacquered effect; blending perfectly together into the dark purple eye and edge.

In a time when new colors seem to be gone, here comes this brown daylily that stops you in your tracks for its clarity and ability to take earthy tones and make them sing with brilliance.

Much admired by everyone in the garden.

Bumble Bee not included!

Blooms extra early.

Fertile both ways.