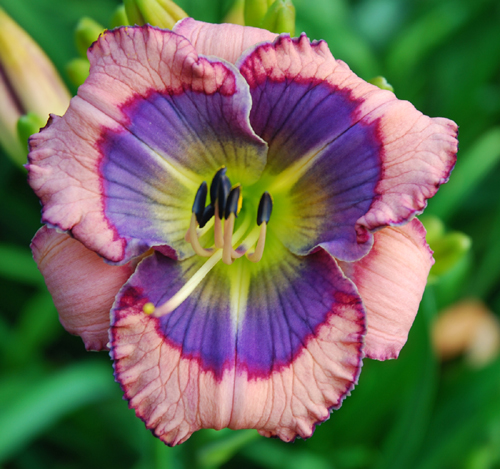 *Blue Beat

---

*

BLUE BEAT

(Stamile,P.) TET 673 (Which Way X Cosmic Odyssey) 36" MRe. emo. vfr. Ev. 4.25" x 2.5" x 1.5". 6-way branching (4 laterals plus terminal "y") 48-50 buds.

Of all the possible color combinations of the blue eye I love this color combination of a lavender blue eye and edge on a clear pink flower.

BLUE BEAT best illustrates how far the tets have come toward getting blue. Up to now only the diploid miniatures had what non-daylily folks would agree on is blue. Tets had what is called "daylily blue", a kind of bluish slate color or bluish lavender. Like most blue eyes the color is not fixed. The image shows atypical bloom which may be bluer on first blooms and more blue lavender on later blooms. Still, if you want blue in the eye of the daylily BLUE BEAT comes as close to any.

An outstanding daylily. Fertile both ways.