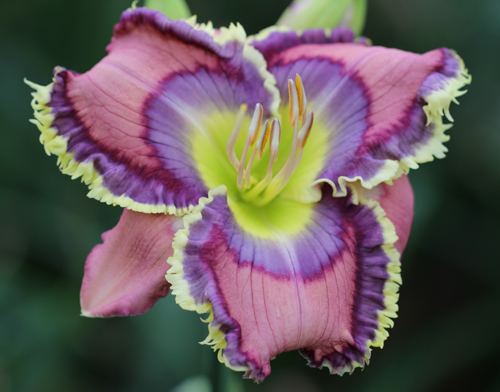 *Blue Martini

---
*

BLUE MARTINI

(Stamile-Pierce) TET 881 (Cosmic Odyssey x Ted Petit Sdlg)

29"

5.5" flower, DORMANT,

emo, EMre, 6 way branching with 45 buds.

Arching Foliage

Nicknamed blue tooth in the garden this light lilac daylily with a blue eye has an outer etching in purple above a large green throat. BLUE MARTINI is a large flat flower with a triple edging of blueberry blue, purple then outlined in sharp white, often as teeth. As a parent BLUE MARTINI has given me quite an assortment of patterned flowers with white teeth. Even though BLUE MARTINI is DORMANT it is a great performer blooming here up until the end of September and should do great in the north. If you're into the blues, patterns, and or teeth you will enjoy growing our BLUE MARTINI. Fertile both ways. Limited.