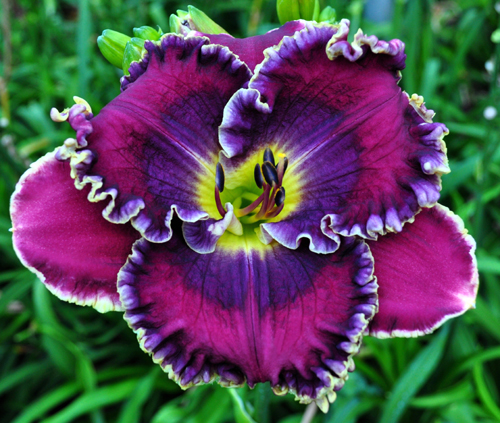 *Blue Racer

---
*
BLUE RACER
(Stamile, P. – Pierce, G.)

TET 867 (Precious Candy x Just As I Am) 43"

EV EM re fr.

5.75" flower 6-way branching 40 buds.

One of the most dramatic and beautiful daylilies produced at Floyd Cove.

'BLUE RACER' has the richest deep coloration I have seen in this color class.

Large and flat, the over-square pansy shaped petals are simply racing with pizzazz!

The dark royal purple eye is awash with blue and this lovely color is repeated all along the wide, very ruffled petals.

A bluish picotee is then outlined in white, stitched into the ruffles.

The strong white edging is also repeated around the fat sepals.

This amazing flower is a breakthrough in deep saturated color, and I have many futures from this Exemplary daylily.

Certainly our most asked about future the last two years.

Limited, Fertile both ways.