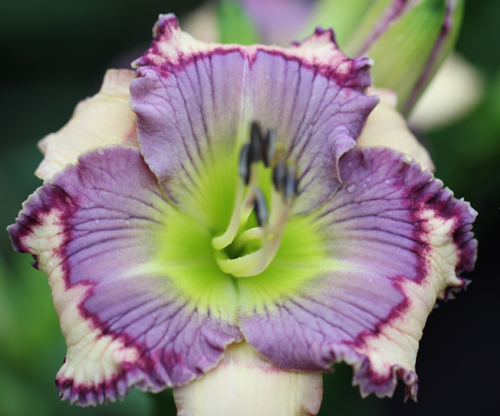 *Blue Wrangler

---
*
BLUE WRANGLER
(Pierce G) TET P830-B (Sdlg 6415-B x Tet Texas Kaleidoscope Sdlg)

37", 5.5" flower, DOR, EMre, emo, 5 way branching, 35 buds.

Arching Foliage.
I can remember exactly where this flower was blooming with Pat the day we found BLUE WRANGLER in the seedling fields. The flower is a cream base with a true blue jean blue eye outlined in raspberry with a double edge of raspberry and blue above a green throat. BLUE WRANGLER has a nice edging in addition to the patterned eye of both blue and raspberry, There is also an etching effect coming out of the green throat in the form of darker veining especially as it passes through the dark blue eye. Fertile both ways and like nothing else.
Very Limited.