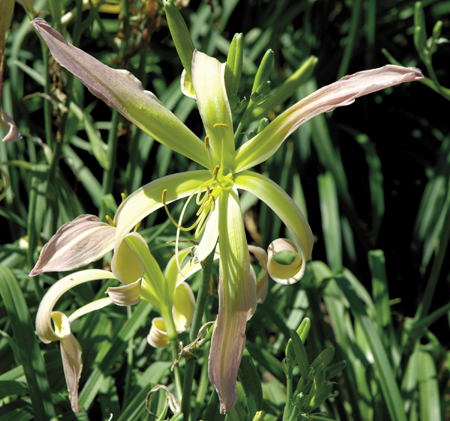 *BLUSHING OCTOPUS

---

*BLUSHING OCTOPUS (Stamile,P.) TET 278 [Runway Model X (Lavender Arrowhead x Tetra Skinwalker)] 39" EERe. SEv. fr. emo. 11" x 1 3/8" x ¾". 13" wingspan. 7-way branching. (6 laterals + terminal "Y") 35 buds. Spider. Spider ratio 4.6:1.

True pink spiders are very rare and to my knowledge this is the very first predominately pink tetraploid spider. This lavender pink spider has both beautiful form and color. In the spider class so many of the lavenders and pinks are layered over yellow because we needed the likes of KINDLY LIGHT and GARDEN PORTRAIT to skinny the flower. The result has been muddied colors. With BLUSHING OCTOPUS we have a lighter base so the colors are clearer and brighter. Moreover, this flower "dances" with furls and curls in the sepals and in the warm weather the petals, as well.

A delightful flower and a real breakthrough in color. Fertile both ways but a reluctant pod parent.