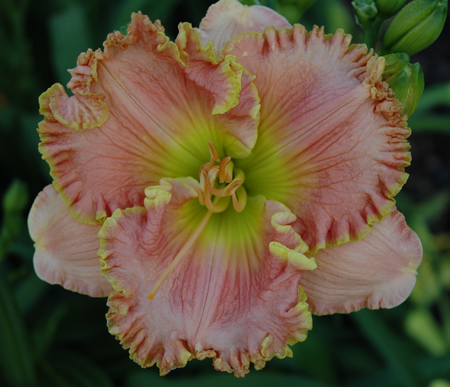 *CAREFEE SUNSET

---

*CAREFREE SUNSET (Stamile,P.) TET 4402 (Judy Farquhar x Tetra Connie Burton) 28" EMRe. SEv. emo. ext. angel wings. dd. 6" x 3½"

x 2½". 4 - way branching. (2 laterals + a terminal "Y")28-30 buds.

For years this has simply been known as "that coral pink with the pistachio green throat", but it is more than that. The deep green shows up again on the outside of the flower as a chartreuse gold. The flowers are wide full and very flat. Excellent substance allows the flowers to extend into the evening.

Long and wide lateral branches with ladder like branching allows for great flower presentation. Foliage is like the pod parent JUDY FARQUHAR and is low and arching to allow for great plant balance. One of the few pinks I grow with pronounced diamond dusting. A stunning flower.

CAREFREE SUNSET evokes the sunsets over Carefree, Arizona when the sky is lit up with tones of coral and rose.

A great breeder for very large flowers as the "Judy Effect" comes back into play when crossed to large flowers. A great parent for large green throats when "Tet Connie" kicks in. Easily fertile both ways and will set even very difficult pollens like Tet Linda Agin.