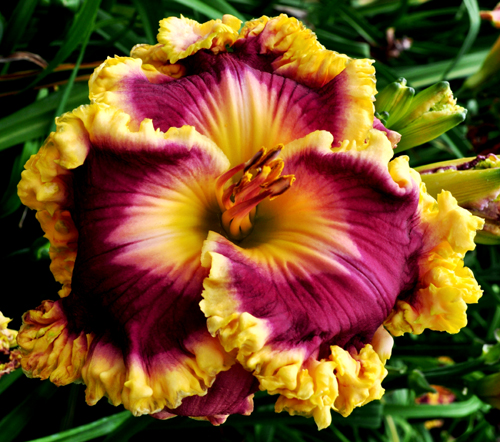 *Castle Rock

---
*
CASTLE ROCK
(Stamile, P. – Pierce, G.)

TET 7147 (( Sdlg x Bella Sera) x White Base) 38" EV M re fr. 6.5" flower 5-way branching 35 buds.

Of all our daylily colors, I am still in love with purple, and 'CASTLE ROCK' is as good as it gets if gaudy gold edges are your thing.

A wine purple self, the 24 carrot, gold braided edge is HUGE and does not hang! The first time I saw 'CASTLE ROCK' I could not believe my eyes.

Flowers open flat with very wide overlapping petals.

There is a cool white watermark that circles the flower petals just inside the bubbly gold edging.

A deep green heart is the final touch of class!

Fertile both ways.