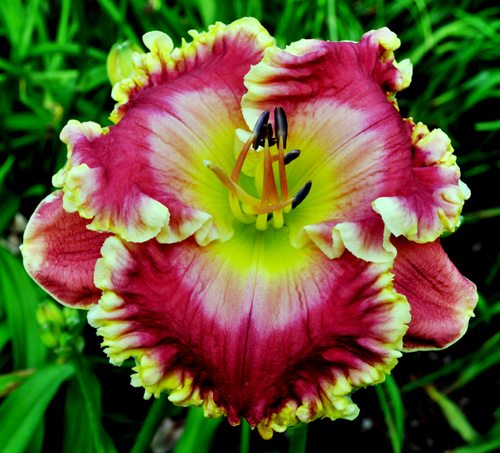 *Cherry Icecream Smile

---
*
CHERRY ICE CREAM SMILE
(Pierce, G.)

TET 8368-A

(((Princess of Wales x Inimitable) x (sdlg x Cerise Masterpiece)) x Fancy Lace)

33" EV EM re fr. 6.25" flower 5-way branching 30 buds.

What a great breeder Fancy Lace has been.

Not just to the whites with gold edges, but taken to patterns and colored flowers as well, and 'CHERRY ICE CREAM SMILE' is another example of this outcross that worked perfectly.

With petals almost 5" across all the great attributes of Fancy Lace came through with the coloration from Cerise Masterpiece.

I love the big deep green throat and all the ruffles steeped in gold.

The large white watermark also edges the petals, separating the hot cerise red and gold.

'CHERRY ICE CREAM SMILE' looks much larger than the 6 ¼" registration probably due to the round form and exceptionally wide petals. She always puts a smile on my face.

Fertile both ways.