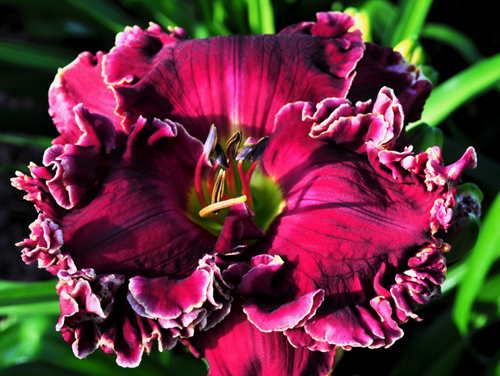 *Crimson Cowboy

---
*
CRIMSON COWBOY
(Stamile, P – Pierce, G.) TET 8440

((Woodie Guthrie x Roses and Gold) x Big Red Wagon) 36"

EV EE re fr. 6" flower 8-way branching 40

buds.
Saddle up and get ready to say Wow!

Of all the daylily types, reds are without a dought the toughest to breed to achieve that leap forward.

They have great color but no edge, or are large but with no branching – I could go on and on.

'CRIMSON COWBOY has it all, just look at the stats above.

The wide true red petals are HEAVILY ruffled, fluted, even having angle wings.

Looking like a big red Judy Farquhar.

There are many other great attributes.

First, CRIMSON COWBOY is a pod stud producing up to ten walnut size seed pods per scape even as temps were in the mid 90's!

Second is the way the white on the petal edges is seemingly shadowed into the tight looping ruffles.

I was not going to introduce this flower until next season, but I had so many requests to release her, so with limited stock – Order early.

Easily fertile both ways.