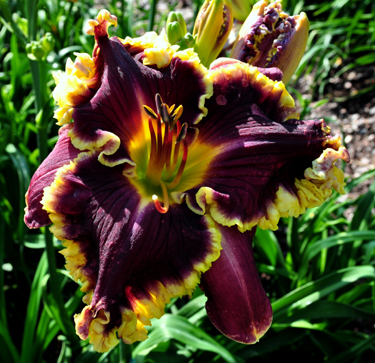 *Dark Night Dynamite

---
*DARK NIGHT DYNAMITE (Stamile, P.) TET 760-Y (Violet Becomes You x Big Red Wagon) 36" EMre. Ev. Fr.
6 ¾" 5 way branching, 30 buds

The picture tells the story. I have reds, blacks, and purples from Dark Night Dynamite and eagerly await this year's big seed crop. First flowers measure over 7 inches and the petals lay out flat so as to show off its brilliant chunky gold edging which outlines this dark purple flower. Color holds very well and I have never seen the blooms hang up, which can be a problem in big edges. Enjoy! Fertile both ways.