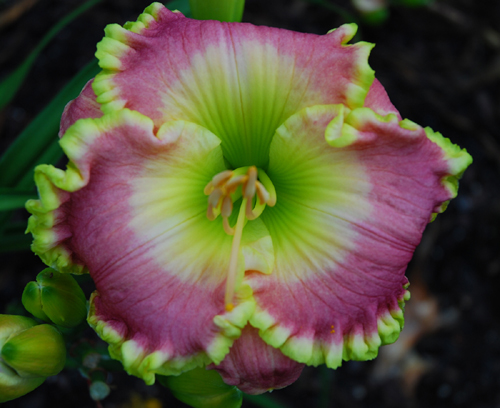 *Emerald Bay

---
*
EMERALD
BAY
(Stamile,P.) TET 485-M (Leslie Renee X Cerise Masterpiece) 28" EMRe. emo. Ev. 5 ½" x 3 ½" x 2". 5-way branching (3 laterals plus terminal "y"). 35 buds.
EMERALD BAY is a beautiful lavender rose pink blend with a large green watermarked eye and green edge. Blooms are wide, round and overlapped with slight recurve. Beautiful deep green arching foliage marks this cultivar. Arching foliage is becoming a premium as some of the fanciest daylilies seem to want to have coarse upright foliage.
EMERALD BAY has nice spacing of the branching and outstanding plant habits. The edge on rebloom can be 3 times the edge shown on this early bloom and the flowers go toward a more lavender pink and the edge becomes greener.
A wonderful daylily and easily fertile both ways.