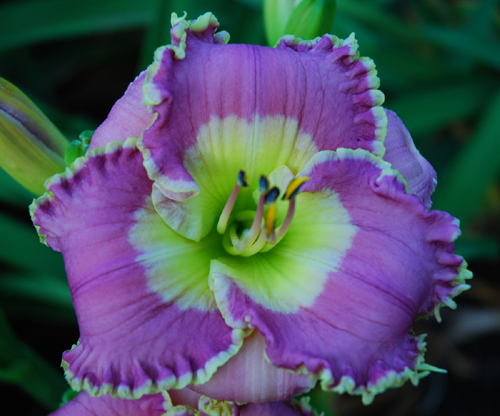 *English Lavender

---
*
ENGLISH LAVENDER
(Stamile,P.) TET 3122 (Arctic Lace X Bella Sera) 36" LaRe. emo. no fr. Ev. 5.75" x 3" x 1.75". 6-way branching (4 laterals plus terminal "y"). 50-55 buds.
Pure lavenders are oddly rare in the world of daylilies. Many lavenders have considerable mauve while others are really light purples or lavender pinks. What makes ENGLISH LAVENDER so special is that color of the flower on first scapes, as shown in the catalog, is the color of the perennial English Lavender. Later flowers are paler but with the same hue just not as saturated. Later flowers also have considerable hooks, knobs and tentacles which are rarely seen on the early blooms.
The edge and watermark enhance the flower and are a kind of a greenish pale lavender. I think ENGLISH LAVENDER can be an important parent for "white faces". This past year I have taken it to patterns, as well.
ENGLISH LAVENDER also illustrates the value of crossing into a white like ARCTIC LACE to enhance color brilliance and color clarity without losing color saturation.
Very pretty flower with a much needed color for the late garden. Fertile both ways.