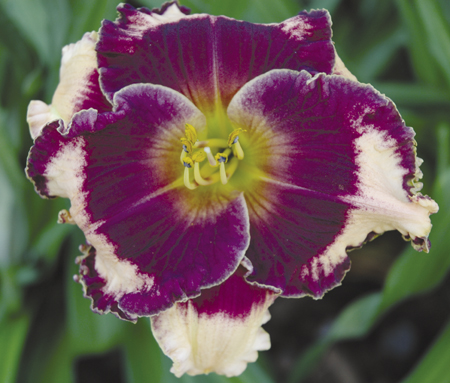 *FACEPAINT

---

*FACEPAINT (Stamile,P.) TET 3143-E (Rock Solid x Zahadoom) 25" ERe. SEv. emo. fr. 5 ½" x 2 ¾" x 2". 4-way branching. (1 lateral + terminal "W") 21-25 buds.

This beautiful orchid cream with a black violet eye and edge is an absolute standout in the garden. A dramatic, large, clear lacquered black violet eye dominates the face of this flower. The colors are clear and bright.

A visitor favorite for years, this ZAHADOOM seedling is the first to be introduced from that powerful parent. Excellent plant habit with low arching deep forest green foliage.

One of our early flowers, FACEPAINT has no problem opening in the cooler season and continues to rebloom at least twice more giving blooms for the entire season.

A fine daylily. I am hoping this one and CAREFREE SUNSET will go dormant in the north. Easily fertile both ways and a great parent for eyes and edges in bright clear colors.