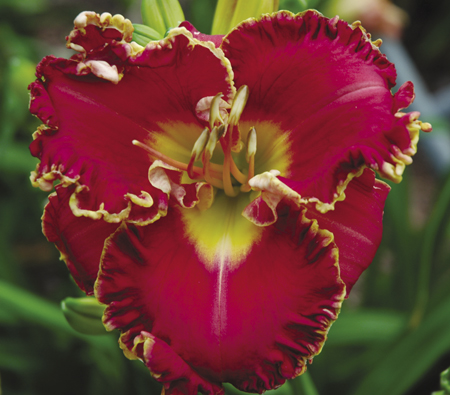 *FIREWALL

---

*FIREWALL (Stamile,P.) TET 2139-A (Tetra Tahitian Waterfall X Walking In Beauty) 35" LaRe. Ev. emo. fr. 6 ¾" x 3 ¾" x 2 ¼" . 5-way branching (3 laterals + terminal "Y") 35 buds.

One thing that I have always loved about STRAWBERRY CANDY is that it always seemed to be prettier at the end of a long hot sunny day. That is certainly a trait I love about FIREWALL, too. The throat opens a green gold in the morning and the edge gold filigree. After a long hot day the throat and the edge become orange while the color of the flower changes from a bright clear rose to a glowing coral red.

The blooms themselves are massive with extraordinary substance. Despite the heavy substance the blooms are deeply fluted and edged in gold. Superb plant habit and excellent plant balance are typical of FIREWALL.

Because of its very different bloodlines for a red FIREWALL is producing great reds of all colors from glowing ruby reds to hot coral reds.

A fabulous parent and superb garden flower and a must for the late garden. Fertile both ways.