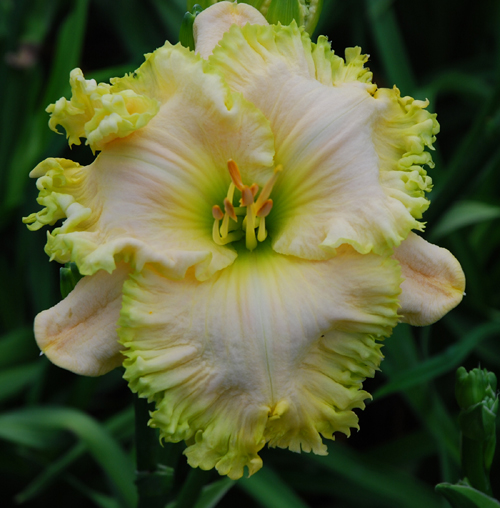 *Fringy

---
*
FRINGY
(Stamile,P.) TET 6195-AA [(sdlg. 0490 x Dream Runner) X (Inimitable x Zephyr's Song)] 32" Ere. emo. no fr. Ev. 5 ½" x 3 ½" x 2". 6-way branching (3 laterals plus terminal "w"). 45 buds.
When I first bloomed this flower I stood back and softly said to myself, "Wow". I had never seen a flat cream white flower with a wide flat chartreuse green fringy edge. I still haven't seen anything like it. It is a truly amazing flower.
Since none of the sibs to FRINGY had the wide fringy edge I was hesitant to use it in my hybridizing thinking it was too recessive a trait to be captured by outcrossing to normal daylilies. Guy did use it and I was delighted to see that there were a good number of fringy seedlings gotten from it.
I think FRINGY will be ground breaking for structural edges for fringy, lacy and tentacle edging. The fact that the edge is also chartreuse green is like icing on the cake.
Fertile both ways. Outstanding in every way but very limited.