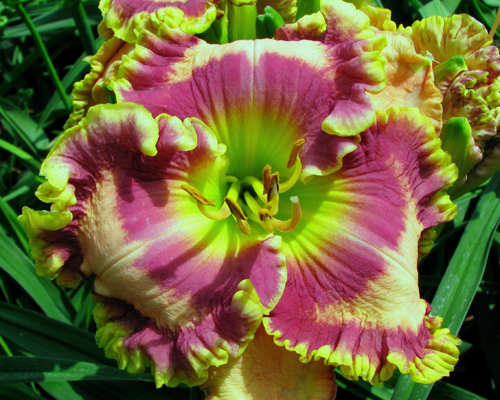 *Game Face

---
*
GAME FACE
(Pierce, G)

TET 9110-B (Sdlg 7232 x Born To Be Wild)

33", 5.75" flower, SEV, emo, EMre, 6 way branching with 50 buds.

Low arching foliage
What a beautiful flower GAME FACE is.

My nick name in the garden was "Colorful" as I had many siblings in this cross but GAME FACE was unique in a happy colorful kind of way.

The orchid cream base has a darker purple eye, and a lovely double edge of purple and piping gold.

The large and quite dark green throat makes this flower quite pleasing.

Another easy pod parent out of the future - Born to be Wild -, making big seed pods on tall well branched scapes!

There is no mud in the color of GAME FACE just big happy blooms opening perfectly day after day.

Easily fertile both ways.