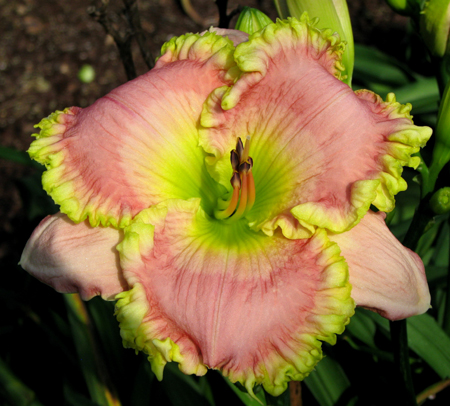 *Greenway

---
*
GREENWAY
(Stamile, P.) TET 5295 (Leslie Renee x Judy Farquhar) 29" MLaRe. no fr. emo. SEv. 6.5" x 3.875" x 2.125" 3-way branching. 21 buds.
This gorgeous sib to DIXIE SUNRISE got its pod parent's green edge and color and its pollen parent's size, ruffling and angel wings. Like DIXIE SUNRISE there is an amazing clarity of color for such a large bloom. Interestingly DIXIE SUNRISE was from early pods on LESLIE RENEE with JUDY FARQUHAR while GREENWAY was from later pods on LESLIE RENEE with JUDY FARQUHAR.
I am not one to label all my evergreens as semi-evergreen because they decline after freezing weather. For me the semi-evergreen foliage habit is fairly rare. I fully expect that in the far North GREENWAY will go dormant while in the deep South there will be some green foliage above ground all year.
This rose pink and green combination arising from the deep grass green throat and chartreuse green edging is stunning. A bit of a bitone since the petals on GREENWAY are rose pink with a baby ribbon pink watermark and baby ribbon pink sepals.
A super flower that comes to bloom just as you think you have seen the best flowers of the season. Fertile both ways with especially powerful pollen.