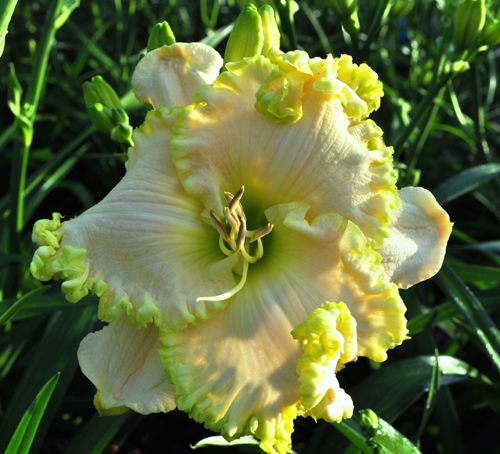 *Irish Jackpot

---
*
IRISH JACKPOT
(Pierce, G)

TET 8364

(Fringy x Fancy Lace)

34", 6" flower, EV, emo, EMre, 8 way branching with 50 buds.

Arching Foliage.
This is probably the most asked about future at Floyd Cove.

This lovely jackpot of a daylily has a true green edge with wide overlapped petals, angel wings, and ruffles.

IRISH JACKPOT blooms on a tremendous thick scape with EIGHT way branching and loads of buds.

The heavy flowers open to perfection and on a big true 6" blossom.

I love green and have bloomed hundreds and hundreds of seedlings year after year, and as the story goes the trick is to get something different!!!

IRISH JACKPOT also gave me the too-die-for seedling # 1198-E which has nearly ½" grass green ruffles on a 7"+ bloom. Very excited.

Fertile both ways.