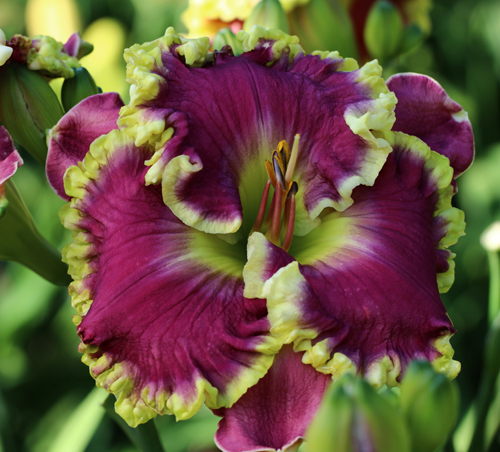 *Mean Joe Green

---
*

MEAN JOE GREEN

(Pierce, G)

Tet P837-B

(Mazatlan x (Apple Spring x Greenway))

40", 6.75" flower, EV, emo, Mre, 5 way branching with 35 buds.

Arching Foliage.

When you see this amazing bloom in person you'll need to check your calendar as you'll think you're in the daylily year 2020. With nearly 5" petals, circular form and a thick ruffled edge of true chartreus/green, this clean lovely purple daylily will surely make you smile. If I had one problem with hybridizing with MEAN JOE GREEN, it was I had nothing better to put on him. MEAN JOE GREEN is a daylily that has jumped ahead of its time. Substance is thick and heavy, scapes are tall at 40" and the bud count would be much higher if it wasn't for the giant proliferations. This year I kept far too many futures from MEAN JOE GREEN and again will be putting him into the greenhouse in 2013. Very Limited. Fertile both ways.