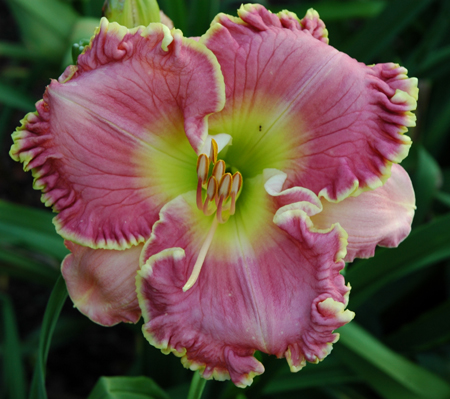 *NATALIE ANTOINETTE

---

*NATALIE ANTOINETTE (Stamile,P.) TET 2153-J (Shantih X Walking In Beauty) 27" MRe. Ev. emo. vfr. 7" x 4¼" x 2½". 4-way branching. (2 laterals + terminal "Y") 35-40 buds.

This is simply the largest gold-edged rose pink that I have ever seen. First blooms can be 8" across with 4¾" petals. Of the pink flowers I grow, and am familiar with only JUDY FARQUHAR and THE TERMINATOR are larger and JUDY FARQUHAR is a pastel peach pink and THE TERMINATOR is a copper rose.

Flowers of NATALIE ANTOINETTE are flat and have extraordinary substance for a flower so large. A flower so large has to have a commensurate plant under it and NATALIE ANTOINETTE has a very strong plant with excellent plant habit, plant balance and good branching and bud count.

An outstanding parent for very large gold edged pinks. Fertile both ways.