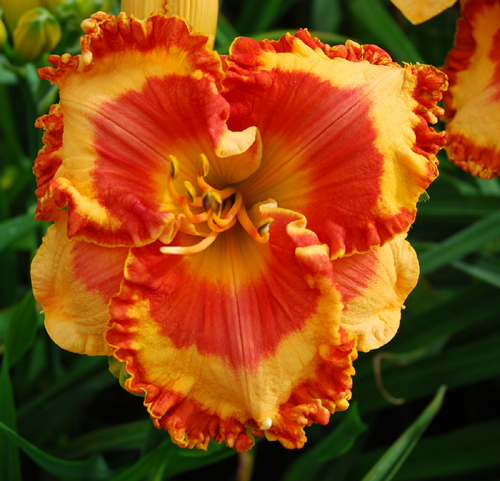 *Orange Grove

---
*
ORANGE GROVE
(Stamile,P.) TET 5215-B [(Orange Electric x Pumpkin Prince) X Special Ovation]

33" ERe. emo. Ev. 6.5" x 3.25" x 2.5". 4-way branching (2 laterals plus terminal "y"). 35-40 buds.
This huge gorgeous brilliant orange with a large flaming red eye and edge is destined to be one of the great oranges. Tall elegant scapes hold the flat heavy iridescent blooms in an outfacing manner for perfect viewing.
Orange in daylilies is often underappreciated as one is reminded of the fulvous orange which many of us started with. Comparing ORANGE GROVE with H. 'Fulva' is like comparing a Ford Fusion with a Ford Model T. They are both the same class but miles apart. The size, color, brilliance and flatness of this flower have to be seen.
If you love brilliant color and a fabulous display you will love ORANGE GROVE – one of our finest daylilies to date. Outstanding! Fertile both ways.