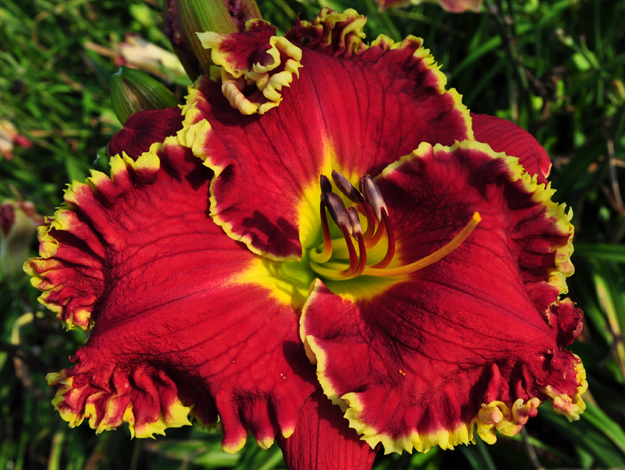 *Red Bull

---
*Red Bull
(Stamile-Pierce) TET 779 [(Woodie Guthrie x Roses & Gold) x Face The Fire] 43" 6.5" flower, EV emo EMre, 11-way branching with 80 buds. Fragrant. Arching Foliage.

Such a fitting name for this beautiful true red with a ruffled gold edge. Red Bull is a garden standout, easily our best all around red at Floyd Cove. Big edged ruffled reds I believe are still the most challenging of programs, especially if you want to have a tall scape and buds to boot. Red Bull has everything a modern great red needs. Brilliant red color that holds in the sun, entirely diamond dusted, with petal edges ruffled in yellow gold. Round full form, with wide overlapping petals that do not hang and a scape like a giant Redwood. The scapes shown in the photo are the smaller re-bloom scapes in July.

Red Bull is fertile both ways, pods take persistence, and shade. Red Bull has a green throat, passes its fabulous traits on to its kids, and is recommended for those breeding reds. I have kept this cultivar back now two years for breeding purposes and therefore have set the price at only $125.