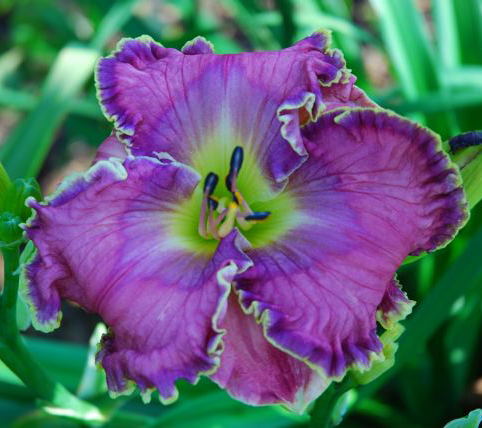 *Blue Lake

---

*BLUE LAKE (Stamile,P.) TET 4172 (Larry Miller x Roses And Gold) 30" ERe. emo. fr. Ev. 6.5" x 4" x 2.5". 4-way branching (2 laterals + terminal "y"). 30-35 buds.
This is simply our best lavender to date. The base color on first bloom scapes is a clear mauve lavender with a blue lavender eye and blue lavender edge supra-edged in gold (as pictured). On rebloom flowers become clear pure lavender as the pink dissipates and three rings of color boldly dominate the edge-purple, blue lavender and gold. Moreover, the white base rather than a yellow, melon or beige base becomes increasingly apparent on rebloom. Also on rebloom the flowers appear somewhat of a blue eyed bitone with the sepals appearing as a light lavender while the petals appear as darker lavender. Ain't daylilies wonderful! Two similar but very different flowers for the price of one.
Whatever you are breeding for, huge lavenders, blue eyes or simply want a cool lavender for the garden, this is a great flower. Fertile both ways.