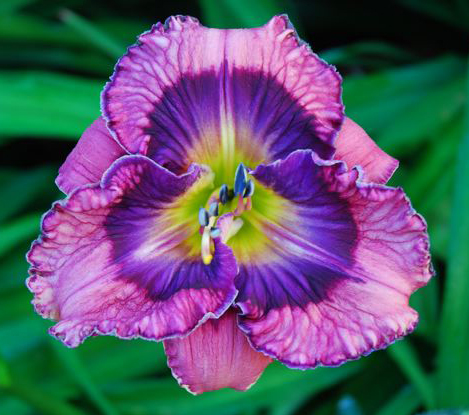 *Blue Mountains
---

*BLUE MOUNTAINS (Stamile,P.) TET 5202 [(Ageless Beauty x Zahadoom) X Bit Of Blue] 24" MRe. emo. Ev. 4.25" x 3" x 1.875". 4-way branching (1 lateral + terminal "w"). 20-25 buds.
This is the first sculpted blue eye that I have seen. The lavender navy eye is ribbed and raised and these "blue mountains" radiate out from a grass green throat. The midrib is also raised but in a contrasting orchid violet color. The fine wire edge is actually made up of three very fine bands of silver lavender, blue lavender and deep 28-30 buds.
I don't know where a flower like this will take us. No doubt this will be taken to the exceptionally sculpted flowers like BAS RELIEF to explore the nuances of sculpting in colors other than melon and gold. For others, like myself, I will continue to explore patterns and all the intricacies the daylily is capable of.
Pollen is nearly white on first flowers but becomes increasingly more yellow and more fertile with each successive bloom. Weak pollen but useable, pod fertile. Distinct.