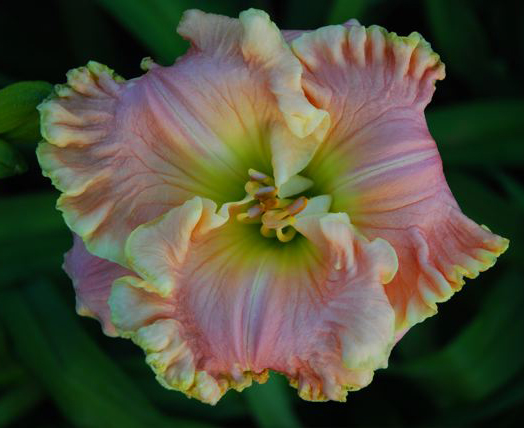 *Clear Mountain Morning
---
*CLEAR MOUNTAIN MORNING (Stamile,P.) TET 470-G (Spring Chorus x Cerise Masterpiece) 29" EERe. emo. ext. Ev. 6.5" x 4.5" x 2.5". 5-way branching (3 laterals + terminal "y"). 35-40 buds.
My hybridizing dream is to create a large flowered "Stella". Like STELLA D' ORO it would have to bloom very early before anything else in the garden. It would also have to open flat even when night temperatures are in the high 40's. It would have to hold up all day and extend into the evening hours. It would have to be bright and clear in color. Unlike "Stella" it would also have to have a better than average scape and bud count and be a large well formed flower in colors other than yellow or gold. CLEAR MOUNTAIN MORNING and QUARTZ RAINBOW come closest to my dream of the ever blooming modern daylily.
If you are breeding for continuous bloom or extra earlies or cool morning openers I have to recommend CLEAR MOUNTAIN MORNING. It also has the gigas trait of over square petals so it will act to improve the form of any full form daylily it is crossed to. If you just want a gorgeous clear baby ribbon pink with a gold edge that is always in bloom and starts the season off with a bang and is not yellow, then CLEAR MOUNTAIN MORNING is also your flower. Fertile both ways.