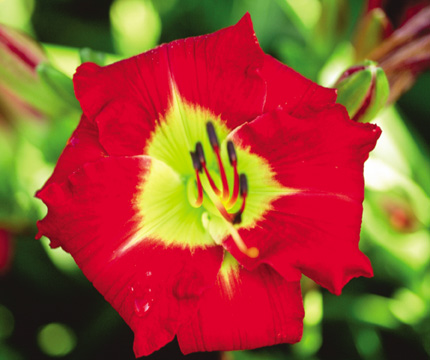 *COMPLEMENTARY COLORS
---

*COMPLEMENTARY COLORS (Stamile,P)TET 9569 [(Passion For Red X Crimson Sheen) X (Passion For Red x Hearts Of Fire)] 26" ERe. fr. emo. Ev. 5" x 2½" x 2". 5-way branching. 30 buds. Not since the first time I saw CHRISTMAS IS have I seen a more dramatic color combination of the complementary colors red and green. Almost a primary red here with a large citron green throat. Some visitors unabashedly pronounced it "the best red they had seen in Florida". I do not know about that but it is the clearest brightest red I have done to date, having very little orange, yellow or blue blended into the color. I believe this is from the dose of TET WHEN I DREAM on both sides that contribute to marvelous clarity. WHEN I DREAM is a red with a white base.
A wonderful breeder for clear reds, I have crossed COMPLEMENTARY COLORS heavily with edges last year hoping to capture both the large green throat and a large green edge along with the clear red color. Only time will tell if I will be successful.
A great show flower with wonderful flower presentation and multiple blooms on well branched scapes with no crowding. Easily fertile both ways.