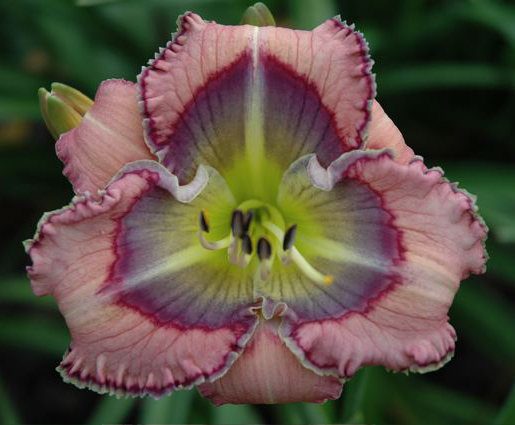 *Cosmic Odyssey
---
*COSMIC ODYSSEY (Stamile,P.) TET 5201-A (Precious Candy x Bit Of Blue) 38" EMRe. emo. Ev. 5" x 2.25" x 1.5". 5-way branching (2 laterals + terminal "w"). 30-35 buds.
From the first time COSMIC ODYSSEY bloomed I knew it would be an introduction if it proved itself with its tall, wide spaced branching all up and down the scape with three colors in the eye and three colors in the edge.
Like all multicolored eyes the pattern is reverse on the edge. The eye begins with an outer ring of fuchsia, then purple, then blue lavender, then light lavender and then charcoal. I have no doubt that as we expand the outer edge all the patterns of the eye will be visible there as well. In my minds eye, it is not if, but when. The base color is exceptionally clear lavender and a great improvement on both parents.
COSMIC ODYSSEY, while far from having a real blue eye, has produced my bluest eyed seedlings to date. The seedlings from COSMIC ODYSSEY also seem to be much larger than most of the blue eyes reflecting the large flowers in the background. Excellent. Fertile both ways.