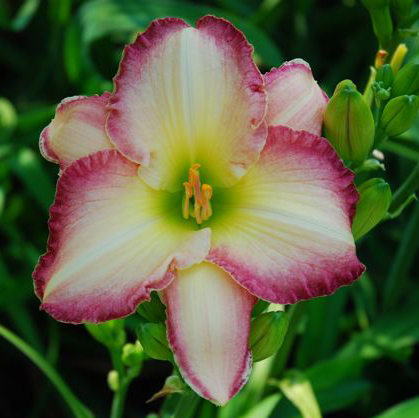 *Crimson Edgings
---
*CRIMSON EDGINGS (Stamile,P.) TET 4262-B [(Pink Intrigue x Tetra Beautiful Edgings) X Tetra Forsyth Flaming Snow] 33" MRe. emo. Ev. 6" x 2.625" x 1.625". 4-way branching (2 laterals + terminal "y"). 20-25 buds.
CRIMSON EDGINGS is the closest I have come to a true red Picotee on a snow white flower. Moreover, CRIMSON EDGINGS opens this way first thing in the morning. It is not a pink or lavender flower that fades during the day to reveal a colored border in what are called in hybridizing circles "fade outs".
Ever since I saw the diploid FORSYTH FLAMING SNOW at Iron Gate Gardens I have been dreaming of having such a flower. Of course, I wanted the base color even whiter and the edge color even brighter so that the entire edge would pop out of the flower.
Yet, sometimes I look at this flower in the garden and it doesn't look real. Certainly it looks as if someone had taken red lipstick and painted the edge of a white flower. Moreover, there is no "mustache" or hint of an eye to mar the true picotee effect. A must for those doing edges with no eyes. Fertile both ways.