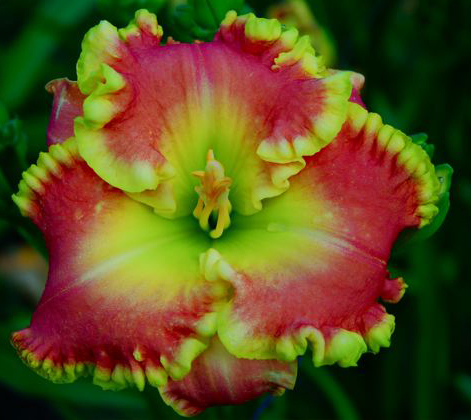 *Dr. Jerrold Corbett
---
*DR. JERROLD CORBETT (Stamile,P.) TET 4295-A (Leslie Renee x Princess Of Wales) 25" ERe. emo. ext. Ev. 5.25" x 3" x 2". 5-way branching. 30-35 buds.
When my friend and fellow hybridizer Jeff Corbett told me his father loved pink daylilies and asked me to name one for him, I knew it had to be a cutting edge pink. First it would have to have great substance, ruffling, great form, great color, excellent branching, excellent plant habit, excellent plant proportions with low arching foliage. In short, it would have to have all the qualities of a great daylily. DR. JERROLD CORBETT does all this and so much more. It combines a saturated rose-pink with a deep green throat and citron green edge. Most green throats and green edges become increasingly yellow in the course of the day. The green in DR. JERROLD CORBETT holds reasonably well throughout the day and is still chartreuse and rose pink after a long hot sunny day.
The first flowers of DR. JERROLD CORBETT are such a saturated rose pink that they almost appear red. I have tried to use this clear concentration of color by crossing DR. JERROLD CORBETT into the reds. We have a lot of whites, pinks and pastels with green edges and I think the next few generations will bring us purples, lavenders and reds with green edges. I am hoping that DR. JERROLD CORBETT will be the bridge to that goal. As with any daylily hybridizing, sometimes you lead the daylilies while other times the daylilies lead you. I will get to see if this strategy worked this coming year.
DR. JERROLD CORBETT is another long blooming cultivar producing three sets of scapes in Florida and becoming a lighter rose-pink with each set of scapes. An avante garde daylily leading the way to the next generation in daylilies. Fertile both ways.