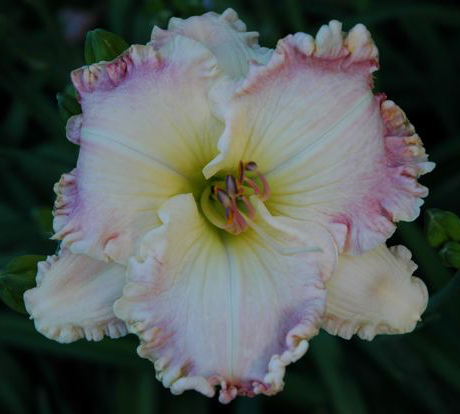 *Fancy Border
---
*FANCY BORDER (Stamile,P.) TET 5280-A [(Pink Intrigue x Tetra Beautiful Edgings) X Winter Springs] 30" MRe. emo. Ev. 5.5" x 3" x 2". 5-way branching (2 laterals + terminal "w"). 25 buds.
Ever since I bloomed the first seedlings from Tetra BEAUTIFUL EDGINGS, Tetra SEAL OF APPROVAL, Tetra UNIQUE STYLE, Tetra SWEDISH GIRL and Tetra FORSYTH FLAMING SNOW, I noted the one thing they all had in common were very good plant habit but rather plain, unruffled flowers with older looking forms.
How do you make these tailored flowers fancy without losing the picotee edge? It seemed to me the best course of action was to take them then to a gold edged white and see if I could get fancy but keep the picotee. This worked especially well. Picotees with an induced parent on one side produce more picotees. The difficult part seems not to be in getting them fancy or picoteed but in intensifying that edge color so that it looks to be painted on.
FANCY BORDER with its orchid lavender edge combines the best "fanciness " and picotee edging I have seen. Here is color and ruffling not only on the petals but the sepals as well. This is a flower that would be selected even if it was not uniquely picoteed. As a result, FANCY BORDER has been one of our most used parents for flowers that are not only picoteed but beautiful flowers as well.
FANCY BORDER is also not just a pretty face. It has beautiful foliage, and excellent plant habit. Top drawer. Fertile both ways.