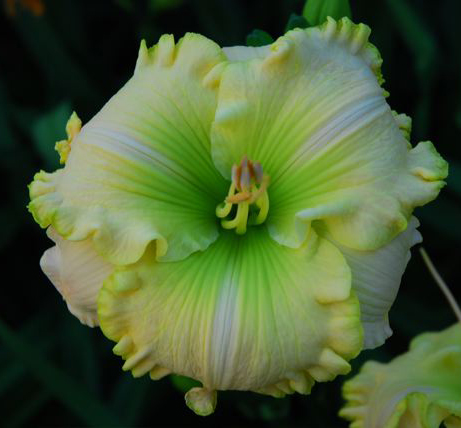 *Going Green
---
*GOING GREEN (Stamile,P.) TET 4129-D (Inimitable x Zephyr's Song) 27" EMRe. emo. ext. Ev. 5.75" x 3.25"x 2.25". 4-way branching (2 laterals + terminal "y"). 25-30 buds.
The idea here was to put the "lettuce edges" of ZEPHYR'S SONG with the green throat of INIMITABLE. The biggest surprise was not the green edge but rather the green
suffusion over the entire flower. It is like we took a scape of INIMITABLE and placed it in green food coloring so that the cream became saturated with green. GOING GREEN has become our most important flower for breeding both pure green flowers and for getting lemon yellows. Since there is some bitone effect I am also hoping to elaborate that characteristic. In my minds eye I see pure green petals with white or pink sepals. And why not? If we can dream it…
GOING GREEN as you can see rolls back. Flower size would be more like 6.5" if it did not recurve as much. Substance is heavy and leathery but flowers open perfectly well. If you are breeding for green, green yellows or lemon yellows I would recommend this flower. If you are doing bicolors it might be more of a long shot but still worth a try.
As a garden flower GOING GREEN adds a new color to the pantheon of daylily colors. Many visitors exclaim when first seeing GOING GREEN, "Oh my, that really is green!" As a hybridizer you are always thinking to the next generation and I am hoping to see some true emerald greens this year. Fine flower. Fertile both ways.