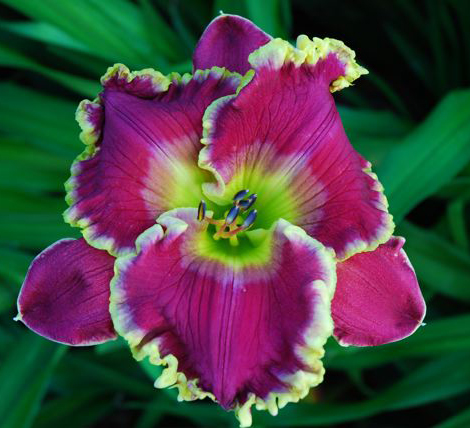 *Green Revolution
---
*GREEN REVOLUTION (Stamile,P.) TET 3118-B (Magic Lake x Bella Sera) 29" EMRe. emo. Ev. 6.5" x 3.5" x 2.5". 6-way branching (3 laterals + terminal "w"). 38 buds.
The first of its kind! The beginning of the revolution. GREEN REVOLUTION is the first purple that I have seen where the edge is green. Even when crossing green edged pinks and lavenders to purples with white or gold edges the inevitable result is a purple with a gold edge. Why the green edge occurred this time is somewhat of a mystery. Green edges have never been associated with the BELLA SERA seedlings. The secret, I believe, lies in MAGIC LAKE which has long been associated with chartreuse edging.
Very well liked and admired in the garden and one of Guy's favorites, GREEN REVOLUTION has both wonderful color and great substance. Flowers open well without any hanging up, are very resistant to thrip and hold up well in the sun. I have seen a few GREEN REVOLUTION seedlings and it definitely passes on the green edge, not every seedling, but enough to be impressed with its genetics.
While the edge on GREEN REVOLUTION is only citron green (a shade of pale green) I have no doubt we are seeing a progenitor of emerald green edges in purples, reds and blacks. "Viva la green revolution!" Fertile both ways.