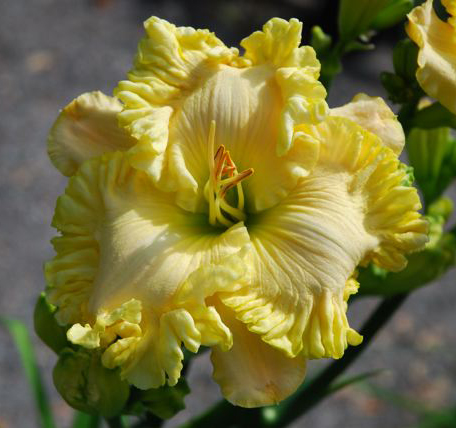 *Lacy Dusk
---
*LACY DUSK (Stamile,P.) TET 4273-B (Spectral Elegance x Winter Springs) 24 EERe. emo. nofr. Ev. 6.5" x 3.875" x 2.5". 7-way branching (4 laterals + terminal "w"). 42 + buds.
Ah, the mysteries of hybridizing! From two modestly branched and difficult pod parents comes LACY DUSK which is perhaps the easiest pod parent we have ever done. In full sun in the Florida heat it will literally set every flower and has phenomenal branching.
A true polychrome LACY DUSK will occasionally show more pink than the image shows. While it does not demonstrate the great looping ruffling of THE HULK, LACY DUSK has some of the finest laciest ruffling I have seen. Looking at flowers of LACY DUSK they seem to have a "diploidesque" quality to the ruffling. In this it is like its grandparent TET RUFFLED MASTERPIECE. Like a lot of Ed Brown's early diploids it has some of the most proportionally wide ruffling you will see. Ruffles are an inch or more wide and because of the notching it rarely hangs.
LACY DUSK, like QUARTZ RAINBOW and CLEAR MOUNTAIN MORNING is a cool morning opener. This is very important since it blooms so early.
If you love ruffles you will love LACY DUSK. Terrific daylily. Easily fertile both ways.