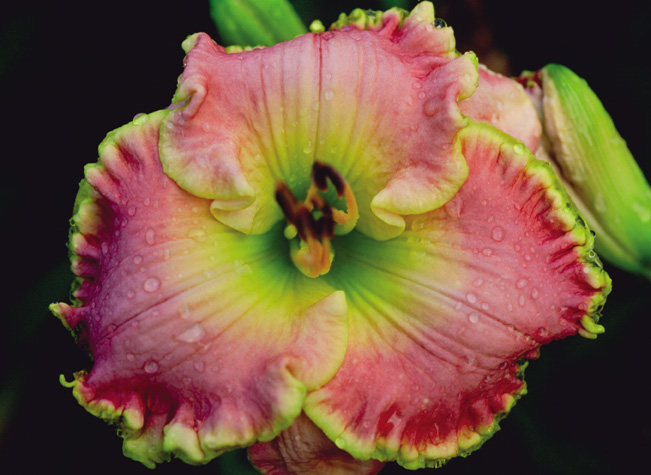 *LESLIE RENEE
---

*LESLIE RENEE (Stamile,P.) TET 1325-B [(Shimmering Elegance x Ed Brown) x Red Fang) X Northern Glitter)] Sibling to SHORES OF TIME. 24" ERe. vfr. emo. ext. Ev. 5" x 3" x 2". 3-way branching. 21 buds. They're here! The first flowers where the edge could be called green rather than chartreuse. LESLIE RENEE, named for the daughter of our California friend Sue Brown, is a breakthrough. It is rare in the world of daylilies that we get a new color into some aspect of the daylily. In LESLIE RENEE we have a waxy chartreuse green edge for the first time. Moreover, being a pink LESLIE RENEE has been paramount for getting green edges into creams, pinks, roses and lavenders. I see no reason why it could not be taken into reds and purples as well.
Unlike the early gold edges where everything crossed to a gold edge meant losing the edge, the green edges are likely to be much more productive. Fully 30? of the seedlings crossed to LESLIE RENEE had green edges.
It has been tremendously exciting to walk the LESLIE RENEE seedlings. Everyone seems a winner. You see one that is fabulous only to walk a little farther and see one even better. Just a fabulous pod parent, it will even makes pods from difficult pollen like TET CONNIE BURTON and TET RUFFLED MASTERPIECE. Easily fertile both ways. An outstanding daylily.