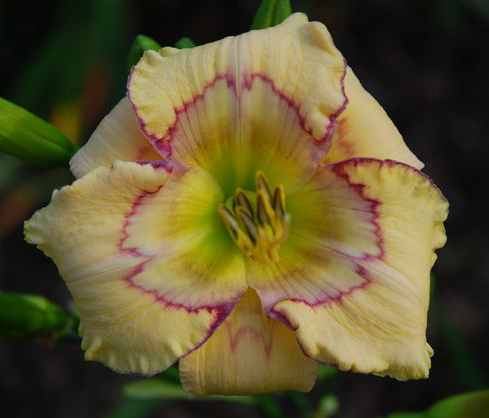 *Marseilles Watercolor
---
*MARSEILLES WATERCOLOR (Stamile,P.) TET 5186-A (Tholian Web x Bit Of Blue) 31" EERe. emo.nofr. Ev. 5.25" x 2.5" x 1.75". 5-way branching. 35 buds.
Totally unlike its sib BARCODE with its distinct bands, MARSEILLES WATERCOLOR always reminds me of a watercolor. The colors are so soft and seemingly melt into each other so it is difficult to discern where one color ends and the other begins. The exception, of course, is the bright fuchsia outer eye band which repeats onto the edge.
One of the earliest patterned daylilies to bloom in the garden, MARSEILLES WATERCOLOR displays great floriferousness with multiple branching and bloom providing terrific color impact.
Like with COSMIC ODYSSEY, I was drawn to MARSEILLES WATERCOLOR from its first bloom. It was so different from all the other patterns I was seeing and even as a new seedling demonstrated great bud count and branching. Fine. Fertile both ways.