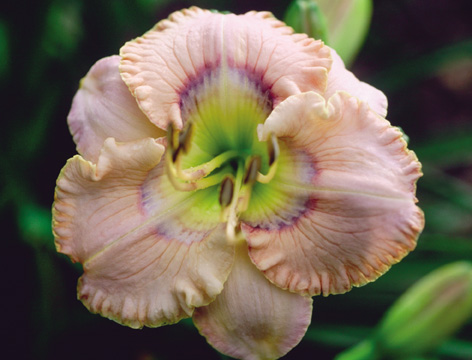 *METALLIC BUTTERFLY
---

*METALLIC BUTTERFLY (Stamile,P.) TET 1201 [(Huckleberry Candy x Sheerwater Blues) X Tetra Mystic Mariner] 23" ERe. vfr. emo. Ev. 4 ¼" x 2 ½" x 1 ¾". 3-way branching. 23 buds.
The first butterfly with a metallic eye. Like a halogram, if you look at the flower from an angle the eye changes from a multicolored blue and gray and lavender to a solid silver foil looking like someone had glued aluminum foil over the eye. An intriguing flower that always fascinates. You will often find me moving my hand back and forth to force the metallic "flash".
What is going on in the eye of these metallic eyes I will have to let the scientists say. All I can tell you is that unlike some metallic eyes, the metallic eye in METALLIC BUTTERFLY does not seem to be temperature dependent.
A nice pink color with exceptional substance and very flat form round out this special cultivar. Easily fertile both ways.