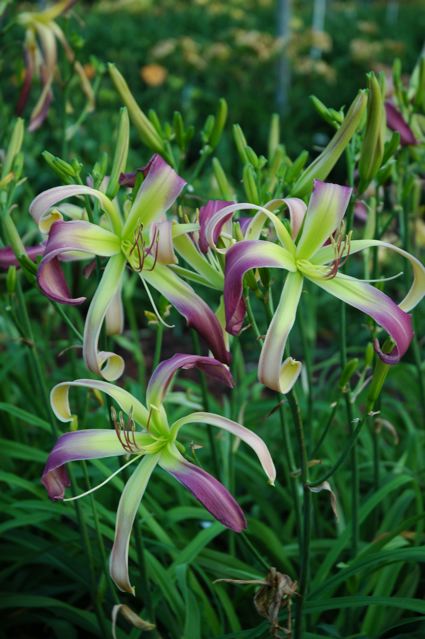 *Morpho's Dance
---
*MORPHO'S DANCE (Stamile,P.) TET 455 (Azure Wings x Linguini) 37" Ere. emo. Ev. (11" wingspan) 10" x 1" x .75". 5-way branching. 30-35 buds. Classic spider. Spider ratio 5.0:1.
While traveling through Belize, Grace and I visited a Morpho Butterfly breeding facility. While within the facility you are surrounded by thousands of Morpho butterflies flying about alighting on you and anything else. MORPHO'S DANCE reminds me of the experience of seeing all the blue butterflies dancing about in every direction.
I was more than a little surprised that this came from AZURE WINGS which I thought was pod sterile. It had to be the only pod I ever got on that stubborn pod parent and luckily with one of my best spider breeders, LINGUINI.
Like AZURE WINGS, MORPHO'S DANCE is a bitone but with rich clear lavender petals and pale lavender sepals. I believe bitones and bicolors are underutilized in the modern daylily. This is especially true in the spider class where you can so clearly see the sepals since they are rarely overlapped by the petals.
One of my personal favorites among this years spiders MORPHO'S DANCE is sheer joy in the garden. Fertile both ways but a very difficult pod parent.