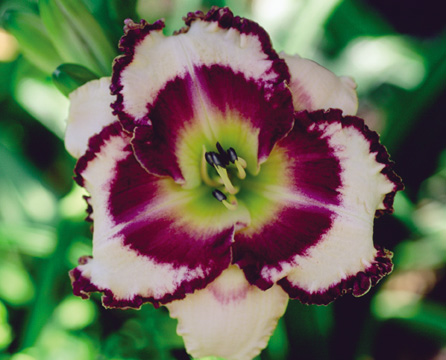 * MUSICAL INTERLUDE
---

*MUSICAL INTERLUDE (Stamile,P.) TET 0394 (Francois Verhaert x Only Believe) 28" ERe. no fr. emo. Ev. 5½" x 3" x 2". 5-way branching. 40-45 buds.
MUSICAL INTERLUDE has been a major part of my hybridizing for eyes and edges. This beautiful large flowered cream with its raspberry Bordeaux eye and edge was used heavily last year.
Sometimes a daylily does not have one outstanding trait but rather a collection of favorable traits. MUSICAL INTERLUDE is one such daylily: opening early but holding all day, clear color, great plant habit combined with excellent foliage, plant balance and excellent branching and bud count. Add easy fertility and this is one daylily I can recommend to everyone. Fertile both ways.