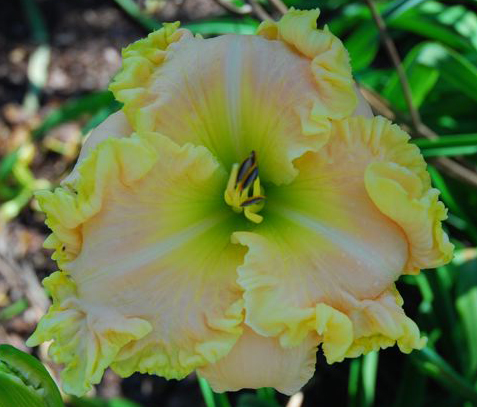 *Quartz Rainbow

---

*QUARTZ RAINBOW (Stamile,P.) TET 319-E [(Victorian Lace x Michael Miller) X Spectral Elegance] 35" EERe. emo. Ev. 6.5" x 3.5" x 2.5". 6-way branching (4 laterals + terminal "y") 55 buds.
This fabulous polychrome was a "failure" to get a white like ALPINE RUFFLES. A beautiful polychrome with pink nuances over cream and highlighted with a gold edge, is in my opinion, destined to be one of my most popular. When you look at the very early bloom season you rarely see the quality of the midseason. QUARTZ RAINBOW would be an introduction if it bloomed in the midseason but this is an extra early. It is a flower that gets more beautiful the longer it blooms. Like all edged daylilies the green edge becomes more and more prominent while the subtle colors become more prominent. This is one of our "modern Stellas"- large flowers that continue to bloom and bloom.
Also important is that this is a flower that will open when morning temperatures are in the 40s.
It is the overall combination of qualities that I believe will stand the test of time; large flowers on tall well branched scapes with beautiful delicate coloration, durable like quartz with the subtle colors of a rainbow. Easily fertile both ways.